Prof. Dr. Yener ÜNVER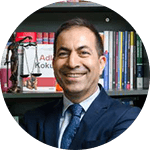 Of Counsel
Prof. Dr. Yener Ünver has started his academic career in Istanbul University Faculty of Law. Now continues in Ozyeğin University Faculty of Law where he is the founding Dean of the Faculty of Law since 2011.
He has published 30 papers which were presented in the international scientific meetings organized in various countries. Primarily Germany, Switzerland, USA, Brazil, Hungary, Ukraine, TRNC, Azerbaijan and Georgia. And 25 manuscripts published in national refereed journals as well as more than 120 publications.
He is a member of DAAD Association (German Academic Exchange Service), Medical Law Association (İstanbul), World Association for Medical Law (USA). He is a member of the Turkish Criminal Law Association where he served as the vice president until March 2013. European Academy of Sciences and Arts. He served as a member of the Disciplinary Committee charge at the Turkish Football Federation.