Nilsu Selin TEMİZ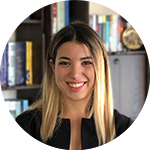 Attorney at Law
nilsu@vonahukuk.com
She graduated from Özyeğin University Faculty of Law in 2017. After summer internships at On İki Levha Publishing and Vona Law Firm. She completed her legal internship at Petrol Ofisi A.Ş. Then she studied at EC San Francisco in the US.Started working at Vona Law Firm in August 2019.
She has certificates from Current Problems of European Union Law and International Human Rights Law, Applied Banking Law, 12th Health Law and Contract Law programs. She participated in Comparative Turkish – German Criminal Law Seminar of Georg August University in Göttingen, Germany and Turkey Bar Association's Law Making Technique Symposium.
She has article translations in Expertise in Criminal Procedure Law (April 2015, Seçkin) and Food Crimes in Comparative Law (September 2016, Seçkin) under the editorship of Prof. Dr. Yener Ünver.
He joined the Mountaineering Club during his student years at Özyeğin University. He became a founding member of the Nature Sports Club and the Law Club. She was a licensed swimmer in Sport Club of Trabzonspor, TED Ankara College Swimming Team and Özyeğin University Swimming Team. She has CMAS1 Star Diver badge.
She participated in volunteering activities under the umbrella of Duyarlı ÖzÜ and SosyalBen Foundation. She is fluent in English and beginner in German.