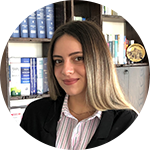 Melisa Zeynep UZUNLAR
Legal Intern
melisa@vonahukuk.com
She graduated from Özyeğin University Faculty of Law in 2019 and started her legal internship at Vona Law Firm. She worked at the Natural Life Protection Club and Law Club of the University and studied violin and piano at Ordu State Conservatory. She's a Greenpeace volunteer. She is fluent in English.